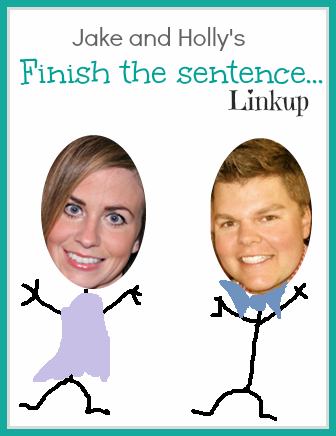 Okay, so technically, I think that this link up may be closed already...nonetheless, I thought the questions would be fun to answer, and I'm lacking blogging inspiration today, so...without further ado, here we go...
1.
People always tell me that
I talk too much.
2.
In the movie based on my life
people would probably leave the theatre thinking "What the hell?"
3.
Typically, I end up regretting
stuffing so much chocolate into my pie hole
4.
I always ask to leave off
the bacon. I don't eat mammal meat.
5.
Kim and Kanye really need to
go away. Just...please?
6.
My Parents always reminded me that
...sorry, can someone remind me?
7.
Every single day
I spend way too much time thinking about food.
8.
This one time in College
I had a roomate who had a criminal record for fraud AND assault, and needed me to sign some sheet from her parole officer because we were living together. True story.
9.
My grossest habit is
I pull out my hair when I'm stressed.
10.
My latest white lie was
I honestly can't remember. I'm pretty honest.
11.
I know all the words to
Joseph and the Amazing Technicolor Dream Coat
12.
When I grow up I want to be
a professional shopper for some rich lady.
13.
Sexy time is
exhausting.
14.
I will never, ever
ever ever ever write a song about Sibbie.
15.
I think it's hilarious
how awkward I feel watching uncomfortable scenes in movies.
How would YOU answer these questions? If you were part of this link up, let me know!